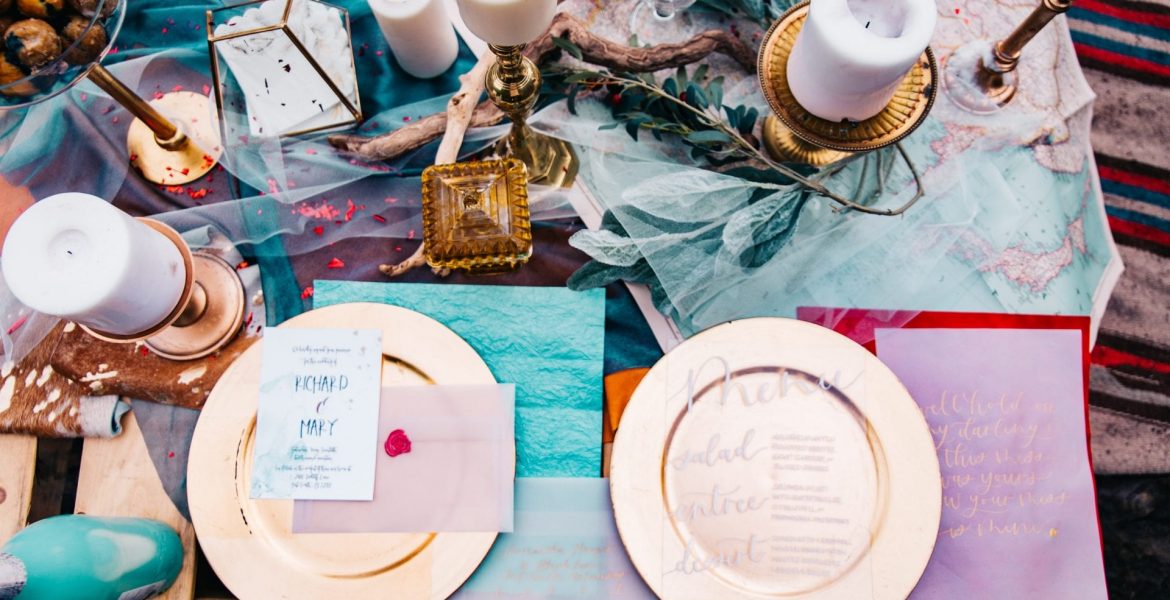 You've booked the venue for your wedding day and now it's time to invite your guests – but you're unsure how to start? Don't worry, we've got all of this covered!
What wording do I include on my wedding invitations?
When writing the words for your invitation start with Who (you and your Fiance's names) What (your Wedding) When (Date and Time) Where (Ceremony and Reception locations) and How (How do your guests RSVP? E.g. via email, phone?)
Below is a modern layout to get you started:
[bride's name] & [groom's name] are getting married!
[ceremony address]
[date]
[time]
[reception address]
[RSVP details]
What wording do I include on my wedding info cards?
Wedding info cards are an important addition to provide to your guests alongside your invitations – these provide any extra information your guests may need to know in preparation for the day. Elements to include:
Accommodation Suggestions:
If a number of your guests will be needing somewhere to stay during your celebrations it may be helpful to provide a list of close accommodation options. This may include rooms at your reception venue and/or nearby hotels, AirBnbs.
Note: Remember to include accommodation options at different price points to ensure you're catering to everyone's budgets.
Dress Code:
This is a simple description for your guests to know what tone and mood you're wanting to create at your wedding so they can dress accordingly.
Common dress codes:
'Smart Casual' – if you're wanting an informal, relaxing vibe
'Cocktail' – a more formal occasion with dresses and suits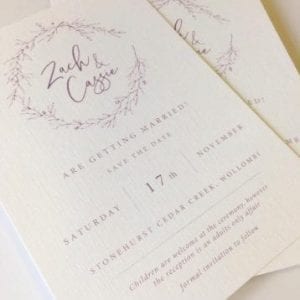 Getting Wedding Invitation ideas
There are no set templates for wedding invitations – you can include anything you want – It's your day remember! This could be a photo from your engagement shoot, an illustration of the two of you, floral patterns, bold colours or simply text based. If you're unsure, the best place to start is by getting some inspiration. Check out Pinterest to get you started!
How do I make my wedding invitations?
When creating your wedding invitations there are two options;
Use your creative flair and create the design yourself using an online design platform
Hire a graphic designer to help transform your ideas into a beautiful design
Although hiring a graphic designer will incur a charge, they're experienced with designing invitations and will be able to create something both unique and professional. Typically printers will bundle together the printing and graphic design charges to make this more affordable.
What size should my wedding invitations be?
The standard sizings for wedding invitations are A6 (105 mm x 148 mm) and A5 (148 mm x 210mm), however the sizing can be customised to suit your needs. Keep in mind, the larger the card size, the higher your printing costs will be.
How many wedding invitations should I print?
Organising your guests into families and households is the best way to determine how many invitations you should print. e.g. you can bundle Aunty Sharon, Uncle Mike and your cousins Sally and David onto the one invite. Once you've determined the amount of invitations you need, add an extra 5 – 10 incase some get damaged or you decide to invite any additional guests.
Note: Don't forget to keep a copy of the invitation for yourself to keep as a momento.
When should my wedding invitations be mailed out?
Now that you have your Wedding Invitations designed and printed, the next step is to send these out to each of your guests. The recommended time to send your wedding invitation out is at least 8 weeks before your big day, taking into account a greater delivery time for interstate or international guests. This timeframe will give your guests enough time to confirm their schedule and respond with their RSVP (the timeframe for your RSVP should be at least one month before your wedding)
Get in touch with the Printnova team today to discuss your wedding invitations!
Feature photo by Annie Gray